KIRBY AUTOBODY CAR LOT
FOR SALE
If you're looking for an affordable pre-owned car, truck, suv, or even repairable autos... then you have arrived to the right place.
NOTE: Because our vehicles are priced far below market value, they do not stay in our inventory for very long. Because of this, our disclaimer is that "Our Inventory Changes Daily", if you find a vehicle you want PLEASE contact us asap to secure the vehicle.
We also offer EXTREMELY affordable repairs of all sizes if you purchase one of our repairables, but don't want to do the work yourself.
Call us at 989-862-5860 or email kirbyautobody@aol.com to get the exact vehicle that you want.
2009 Chrysler Town & Country, 3.8L, auto, stow-n-go, dark blue w/ gray leather, 3rd row, 2 monitor rear entertainment, power doors, 154k, runs & drives great. $5,900
2003 Ford Explorer XLT, 4x4, Candy red w/ gray heated leather, 3 row seating, newer tires, very clean, runs great, 165,000 miles, $3400.00
2006 Chevy Silverado 1500HD, crew cab, short bed, indigo blue w/ gray cloth interior, overall very clean truck, good original rockers, 6.0L, auto, 2wd, 130,000 miles, $8,500
2008 Ford F-450 Crew Cab Dually, King Ranch, 4x4, 6.4L diesel, egr & dpf deleted, newer tires, topper, very clean inside & out, 180,000 miles, salvage title due to bed was replaced with take-off, $20,900 SOLD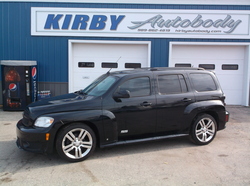 2008 Chevy HHR SS, 4 cyl Turbo, auto, loaded, black w/ black leather, 143k, runs & drives great, moon roof, $5,600
2001 Chevy Silverado 2500 HD, 4x4, ext cab, long bed, 6.0L, auto, burnt orange w/ tan interior, 215K, runs & drives excellent, good tires, $5000 for truck or $7500 w/ newer Curtis plow.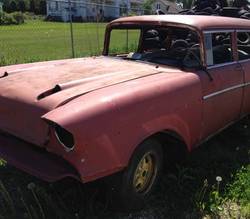 57 Chevy Wagon, no motor or trans, quarters are good, needs floors, rear gate and all parts are inside the car, 2500
2007 Chevy Suburban LTZ 4 x 4 Loaded Black with black leather interior Heated Seats Moon Roof Rear Entertainment 3 Row Seating Back up camera 137000 Miles Left front damage Selling as a REPAIRABLE Salvage Title Runs good Lot Drives $7500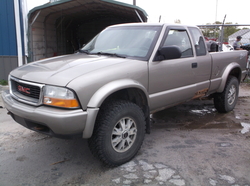 2003 GMC Sonoma Highrider ZR2, ext cab, 4x4, runs & drives excellent, BFG tires 80%, over 200k, tan w/ gray interior, $2,900 b/o
1996 Toyota Tacoma, 4x4, ext cab, V-6, manual, 260k, body decent, comes with a 2004 Tacoma Ext cab, 4x4, V-6, auto, 153k, runs good but rolled over. Swap parts and have a low budget 04 Tacoma. Both run, both 4x4, $2,800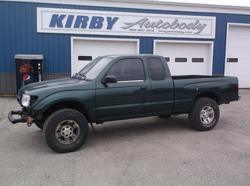 1999 Toyota Tacoma SR5, ext cab, 4x4, V-6, 5 speed, 174,000 miles, runs good, overall nice body, green, needs front bumper, $2,900
2001 Jeep wrangler project, 4.0L, auto, no front clip, frame has a pro-fabed long arm w/ heim joints, no time to finish, lots invested in frame alone, $ 3,500 b/o